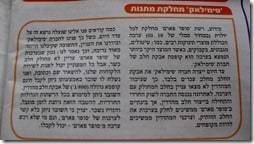 Q: How was the haredi public mekupach (shortchanged)?
A: Because Superpharm, the drugstore chain, included only regular dairy infant formula in its giveaway for new parents. Haredi parents require mehadrin formula, produced under a higher level of kashrut supervision.
Readers reported this "injustice" to the newspaper Hashavua, which contacted the formula manufacturer. In response the company offered to send a coupon for a free 900-gram package of mehadrin formula to anyone who left a name and address with the customer service office.
I think the formula company got a good deal. With any luck, it will be seen as a champion of downtrodden haredi consumers. It also gets a list of new names and addresses for its marketing database without having to shell out too much—formula has a large markup because it is so inexpensive to produce.
Hidden Costs of Formula Giveaways
Gifts of formula sound like a good idea, but the newspaper and its readers are misguided. The coupons will be requested by many families whose babies are still nursing, including some very young babies (if they are even born yet). Those mothers who fully intend to breastfeed will now have "free" formula on hand for whenever there is a concern that the baby is still hungry (this could be whenever the baby cries), or the mother has to go out. There are numerous studies showing that free formula samples greatly increase the risk of early weaning.
Hidden costs to formula giveaways include:
The cost of advertising, marketing and giveaways raises the price of the product for families who rely on formula to feed their children. The poorest families suffer the most from high prices.
900 grams of formula lasts a few days at most. If given to the baby at a young age or within a short period of time it can lower the mother's milk supply, which operates on supply and demand. When the package runs out the parents will need to purchase more—they won't get another coupon.
Money spent on formula forms a significant portion of the budget for poor families. This means less money for the family's other needs, including healthy food.
Even one bottle of formula at an early age increases the risk of allergy and Type I diabetes.
Formula-fed infants get sick more frequently and for longer, requiring days off of work. This affects both short-term income levels and long-term job security. Large companies in the US invest in facilities for breastfeeding employees, including private pumping rooms with expensive equipment, because employed breastfeeding mothers are more reliable employees.
In haredi society where artificial birth control is discouraged, breastfeeding serves as a natural means of spacing children. Even if you don't believe that it is a reliable method for an individual mother, there is no question that it delays return of fertility within a large population. Closely spaced children put economic and physical stress on families.
Maternal Health. Formula-feeding mothers have higher rates of breast cancer and Type II diabetes.
But what about the free market?
Formula should not be subject to marketing competition for several reasons:
It's meant to replace a free, readily available and superior substance. When formula is necessary (in the absence of regulated milk banks), it should be available at low cost, without fancy packaging and advertising.
We limit marketing and sales of cigarettes to children and teens. Surely babies should be protected just as much. While parents must be the ones making health decisions for their children, these decisions shouldn't be influenced by misinformation or manipulative techniques.
The decision to stop breastfeeding is usually final, as relactation is a lot harder than maintaining a good supply in the first place. Just a little bit of marketing at a vulnerable point can start the course toward early weaning.
Israel is a signatory to the WHO International Code for Marketing Breastmilk Substitutes, but our health ministry rarely enforces it.
You may also enjoy:
M* Mitzvah (another misguided formula PR scheme)
Breastfeeding Basics with Christina Smillie
Reports: Widespread Damage to Remedia Babies 7 Years Later