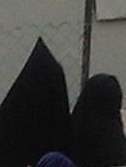 This is a response to a discussion on the Face-Covering Jewish Women from Beit Shemesh on a private Orthodox Jewish forum. The poster, —œCapital Chick— from Canada, gave permission to post. I have edited it slightly.
Capital Chick is responding to forum members who argue that this is none of our business, and the hyper-modest women won't affect the lives of "mainstream" Jewish women in any way.
I disagree that these women are not a threat. I think that they are.

I think that it is the height of political correctness and moral relativism to claim, within this Jewish context, "to each his own" or "everyone is correct in their personal interpretation of halacha". This is wrong, and we certainly don't afford such an open mind to our non-Orthodox sisters and brothers.

I am all for a broad interpretation of halacha (Jewish law). I do believe that there's room for women to argue that head covering is necessary, and for others to consider themselves orthodox without covering their hair. But wearing a burqa?!?! At some point I'm comfortable standing up and saying "NO! You are WRONG!". And for those who ask "Who are you to determine that?", I say to you "What's wrong with you for NOT being able to determine that?"

The right-leaning trend of our community, and our tendency to move as far to the extreme as possible on all issues, means that eventually we will all be judged according to these whackos' standards. I hope you don't mind being called a slut for not wearing a burqa, because unless we stand up against this insanity as a community, I guarantee you that those comments are right around the corner.

Listen, we see this type of behavior today. A woman who just covers her elbows is acceptable. But a woman who always makes sure her wrists are covered—¦.Well, she's more tznius! A woman who covers her knees? Torah-observant. A woman who makes sure her ankles are covered and wears opaque stockings? A true eyshet chayil (woman of valor)!! We seem to have lost the ability to truly understand and accept those who say "This is what the Torah requires of me, and there's no additional merit to be gained from going further".

Please don't think you're immune to being drawn into this crazy tznius race by these extremists. The opaque-stocking wearers, for instance, are setting the tznius bar today, because they're the most covered. The burqa wearers will set tomorrow's standards, because introspection, self-criticism and debate have, for some reason, disappeared from the frum community.