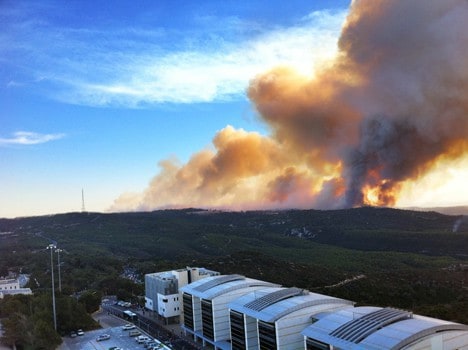 I'm listening to the radio. A huge fire is raging in the Carmel forest, near Haifa. Nearly everyone from Kibbutz Beit Oren was evacuated, and only a few of the buildings are left. The fire is spreading in all directions. The kibbutzim of Ein Hud, Ein Oz and Nir Etzion have received orders to evacuate.
Bibi Netanyahu said that "we have never experienced a disaster like this" and asked for fire-fighting equipment to be flown in from various countries, including Greece and Russia.
Forty prison cadets from the center of the country, called in to rescue inmates from a prison threatened by fire, were killed when their bus overturned and was caught in the flames.
Here are phone numbers of hospitals in the north:
Rambam 1255144

Bnei Zion 1255145

Carmel 1255142
Only a few patients have been brought to hospitals so far.
Our thoughts are with the families of those injured and killed, and we hope that the fire will be put out soon. This is a huge ecological disaster as well.