I decided to join Phyllis and Robin (and Baila!) on NaBloPoMo (National Blog Posting Month) where you post every day for the month. I'm a day late, but never mind. In addition to my usual topics, I will be sharing pictures from around town. Petach Tikva is full of modern artwork, some good and some notoriously bad. I'll be focusing on the traffic circles, each of which has a unique sculpture or landscaping.
The traffic circle featured above shows two examples from the exhibit of horses in honor of Petach Tikva's 125th birthday. They appear in one of the newer neighborhoods, Kfar Ganim Gimmel. Tell me, is it only Israelis who name new developments with numbers?
The traffic circle is in honor of the "twinning" of Petach Tikva with Koblenz, Germany. Petach Tikva has many sister cities including Chicago, which even has a street named after it.
Occasionally taxpayers complain when the mayor decides to visit one of these sister cities. The traffic, though, is in both directions.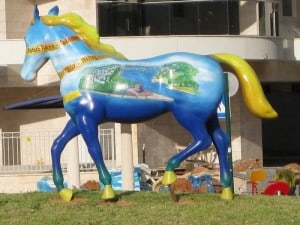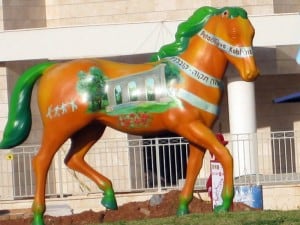 Um, the blue one is Koblenz I think.
I've written about traffic circles before:
On Hoopoes, Black Cats and Duodecagons I'll be posting a picture of the updated sculpture.
"Ma,We Live in a Slum" The dangerous intersection I wrote about is now a sodden, muddy mess.
See you tomorrow!