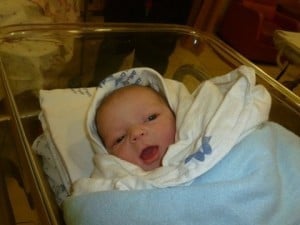 A reader writes:
I enjoy reading your baby name suggestions, and thought you might be able to lend some of your insight to us as well… 🙂

We are national-religious, living in Israel, originally from America, and looking forward to welcoming our first baby, a boy. We would like to name him something inspired after my husband's late father, who went by Frank and whose Hebrew/Yiddish name was Feivel, which means "bright/shining/light." Our nephew is already named exactly after him, so we would like to choose something that is not an exact match, but alludes to the meaning somehow.

Ideally, we also would like it to be a reasonable and pronounceable name for both Israelis and Americans (including those with bad accents in Hebrew — this rules out most names with an "r" and all names with "ch". A religious meaning or association is fine, but the name should ideally not feel "too religious" (e.g. Shraga, Neryah) or "too secular." We don't care if it's popular or not, though it should hopefully not generate a "is that actually a name?!" reaction.

Thanks very much!
For more discussions on Israeli baby names, see also: