Photo via Hadrei Haredim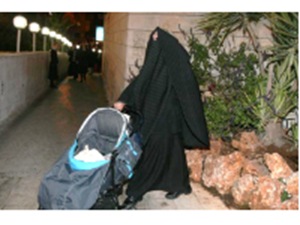 I had hoped that with the arrest of Bruria Keren, the trend of face-covering among Jewish women would die out. But according to the website Hadrei Haredim, a growing group of women consider face-covering to be halacha (Jewish law) and convince others to follow. These women can be found in Beit Shemesh, Jerusalem and Elad.
Hadrei Haredim also reported that the religious court of the Edah Charedit in Jerusalem has received several requests by husbands to rule against the veils, which the wives wear without their approval.
It appears that at least some of the husbands  support their wives on this issue, because twenty families in Ramat Beit Shemesh Bet have threatened to pull their children out of the cheder (charedi boys' elementary yeshiva) because the wives of the rebbes (rabbi-teachers) do not wear veils and presumably set a bad example.
There are reports of girls not able to attend high school because they are harassed over the veils, and of very young girls with their faces covered.
Hat tip: Rafi of Life in Israel.
Related:
Hyper-Tzniut Fashions for Young Girls
Haredi Women Advised to Sit Separately from the Less Modestly Dressed