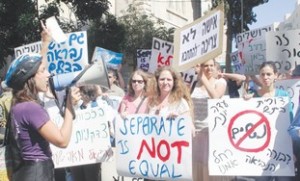 In the Jerusalem Post Yehuda Mirsky asks "Where is the Tzniut?" Mirsky was among those who filed a petition with the High Court to prevent separate sidewalks for men and women in Mea Shearim during the Sukkot holiday. When he visited, secular security guards blocked women from entering the main streets. They refused to tell Mirsky the name of their company. Mirsky also writes:
Yet there can be no denying that it is tied to a corresponding extremism in secular society. The objectification of women in extreme haredi practices is more than matched by the objectification of women to which we are subjected to day and night by the colossal apparatus of marketing and advertising. And that apparatus is taking over the public sphere in its own way, with massive billboards and inescapable ads which forcibly revamp the public sphere no less than the mehitzot of Mea She'arim.

Ironically, it is the ideal of tzniut itself which seeks to undo objectification. It is a moral demand to refrain, step back, pause for reflection, precisely to enable another to be present. True tzniut should not attempt to erase women, whether in the recesses of Mea She'arim, or in the aggressive world of advertising.
Photo via Marc Israel Sellem of the Jerusalem Post