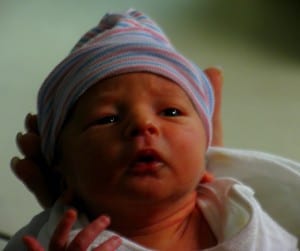 Likud MK Danny Danon has introduced a law preventing formula companies from advertising in maternity wards. If passed by the full Knesset, hospitals will no longer accept free formula and other gifts from manufacturers. Currently companies compete for the chance to "donate" formula and valuable equipment to the hospital nursery, in exchange for exclusive distribution in that hospital.
The proposed law also requires mothers (not fathers) to sign a consent form before their babies get formula. The formula will have only an identification tag and no brand name or logo. Finally, manufacturers must sell formula to hospitals only at a predetermined wholesale price with no discounts.
This article points out that formula companies pay hospitals about 8% of their annual profits (NIS 35-40 million) to guarantee that new babies will get their brand of formula in the hospital. Parents imagine that they are getting free formula, but make no mistake, consumers pay the cost of this "gift." And the health system, i.e. the taxpayer, ultimately pays via increased health costs from formula use.
Ynet called the article, Formula to Be Banned in Hospitals? I guess the editors decided that the question mark made it okay to lie about what the law actually says. Formula won't be banned, only regulated.
The proposed law takes its main points from the World Health Organization's International Code of Marketing Breastmilk Substitutes, the WHO Code. Israel is a signatory, but the WHO recommends enforcing it by legislation.
The proposed law has provoked a backlash. According to Ynet:
. . . A group has already formed an online petition protesting the bill. Led by psychologist Anne Hadar, the petition claims that not only does the bill not fulfill its purpose, it is also infringes on the new mother's rights.

"We, the women who give birth are not little girls who can be summoned like misbehaved schoolgirls and pressured" the petition stated.

On a section of the bill claiming that "breastfeeding has nutritional, health developmental and psychological advantages for the baby. Side by side with the advantages to the mother, among which is the strengthening of the bond between mother and child", the petitioners ask: "What does that mean? Is a woman who chooses not to breastfeed unable to bond with her baby? Will her connection to her child be any less strong?"
Misbehaved schoolgirls? I don't think so. It's much more condescending to undermine a mother's decision to breastfeed by giving bottles without her consent. This occurs daily in Israeli hospitals.
Breastfeeding is the biological norm, and giving formula is a medical intervention with repercussions for infant and adult health. Medical interventions by hospital staff require justification, a discussion of the risks, and parental consent.  Feeding a baby against the mother's wishes is a much bigger infringement of rights than prohibiting formula marketing. Exactly what right does the proposed law take away from parents?
Only privileged mothers have a true "choice" between breastfeeding or bottle-feeding, since despite the current price wars formula is still expensive. Mothers who request formula won't get turned down by hospital staff, but may have to pay the price later. Dr. Jack Newman points out that formula companies market to higher-income families, because they are more likely to stick to one brand and use it for longer than poorer families. Also, they buy the higher-end products.
Unfortunately, every effort to restrict formula marketing provokes a defensive response by bottle-feeders. You would think that asking for consent to feed formula in a health-care institution, or requiring hospitals to purchase it, is equivalent to putting a scarlet letter on the foreheads of bottle-feeders. Saying anything positive about breastfeeding, or highlighting the documented risks of formula, provokes a similar reaction.
Others have pointed out that the new law will create problems because of the routine separation between mothers and babies in Israeli hospitals. If the hospitals would introduce Baby-Friendly Hospital Initiative policies, with mothers and babies together 24 hours a day, the health system would save money. Being left alone with their babies is the best way to get started breastfeeding. One study showed that mothers got interrupted 54 times over a 12-hour period in the hospital.  It's not about interfering with parents' choices and it's not about guilt. It's not about what makes a good mother. It's about getting accurate information to parents and protecting babies from marketing tactics.
This document from the WHO on the Ten Steps to Successful Breastfeeding provides the evidence for rooming in (Step 7).
What I expect is that at admission, the hospital will present the form. Whoever wants to, will sign and whoever wants to give formula, will do so.
On a related note, here's a beautiful article and video about a mother who asked for her baby to be placed on her chest before the c-section was even finished.
Related:
Haredim Shortchanged by Formula Freebies: How free formula harms young families
Breastfeeding and Cosmetic Surgery in Israel
In Which I Meet and Talk with the Mom of a Remedia Baby
Babies Left to Scream in Israeli Maternity Ward