My friend Hadassa Levy, a babywearing consultant, wrote this guest post in light of safety warnings connected to soft baby carriers.
Israeli parents and caregivers are concerned and confused about babywearing, after a US consumer advisory warned that wearing your baby in a sling can lead to suffocation. The warning followed a number of infant deaths in 2009. Could it be that baby slings are dangerous for our little ones? Should we reconsider our pro-babywearing attitude in light of those tragic incidents?
Babywearing has been practiced throughout the centuries in all cultures and is still the most common method of transporting babies in many countries. A baby's anatomy and psyche is designed for babywearing: When picked up, newborns immediately cling to their parents' body and calm instantly when nestled close to the heart and reassuring warmth of their mothers. For parents of high-need or colicky babies, the sling can be a lifesaver. Babywearing improves the bond between parent and child, and promotes the baby's physical and sensual development. Babywearing is practical when it comes to public transportation, hiking, shopping or caring for several small children at the same time.
But with countless types and brands of baby carriers available on the market, parents and caregivers should be aware of essential safety rules.
The tragic infant deaths in the US were caused by improper positioning in bag-type slings, where the baby is kept in a curled cradle position bending the chin toward the chest. This position restricts the airway and slowly suffocates the baby.  (See image on left.) Although that specific type of carrier is not available in Israel, the cradle position is widely used. I'm seeing a lot of curled-up babies, especially with the most common stretchy wrap material that makes proper positioning difficult.
Therefore, I generally recommend upright tummy-to-tummy holds for newborns in a properly tightened baby wrap or ring sling. (Photo at left below) The upright position is a safer choice for several reasons: Baby's neck is in a straight line with the body and his face rests on the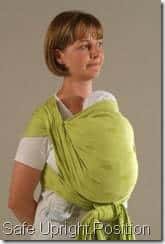 wearer's chest, with free airflow on both sides. When the wrap is tightened properly, the immature rounded spine gets maximum support and the natural "frog-leg"-position promotes the development of baby's cartilaginous hip joints.
If parents do choose the cradle hold, for discreet breastfeeding,
for example, they should always make sure the baby is positioned in a nearly horizontal position across the parent's chest with the neck in a straight line with the body and the face free.  (See image on right.)
The baby should be worn close to the parents body and high enough for the parent to easily kiss his face.
No matter which carrier or position is used, babywearers should always be alert to baby's movements and reactions and check frequently that no material is draped over the face.
Prior to purchasing a baby carrier I advise every parent to consult with a babywearing professional, who will help find the ideal carrier for each familiy's individual situation and offer thorough instructions on how to use the carrier properly. Salespeople in baby stores are not usually trained in babywearing, and the number of babywearing consultants in Israel is growing. Most sell carriers themselves, but will also be happy to assist with a carrier that the family already owns.
Resources and further reading:
Official statement from Babywearing International
Sleepywrap: Useful information on positioning, baby development and more
Correct positioning in different baby carriers
Baby's anatomy and frog-leg position
Upright vs. Cradle (Hebrew)
About the author:
Hadassa Levy is a babywearing instructor offering private and group consultations as well as a wide range of baby carriers. Her Hebrew/English website website and blog contain information, instruction videos and answers to frequently asked questions about babywearing. She lives in Modiin with her husband and daughter.
If you enjoyed this post you may also enjoy:
Breastfeeding and the Working Mother
Breastfeeding Late Pre-Term Babies