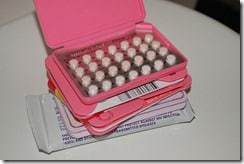 On January 16, 2011, I attended the conference on fertility, halacha and women's health, sponsored by the Orthodox women's organization Kolech, the Bar-Ilan department of Gender studies, and the-Woman-to-Woman health center in Haifa.
Knesset Member Gila Gamliel introduced the panel on Fertility, Gender and Halacha: Critical Viewpoints, and I've already written about her proposal to raise the marriage age.
Dr. Uri Levi, a faculty member of the British Royal College of Obstetricians and Gynecologists (RCOG), spoke about the influence of nefesh on women's bodies in science and halacha (Jewish law).  Nefesh is usually translated as soul, but it also refers to mental or emotional state—mental illness is known as machalat nefesh. , Like the majority of the speakers Dr. Levi provided no slides or handouts, so I am quoting from my notes. I hope that sources will go up on the Kolech website, as promised.
Dr. Levi started off with an important message, saying how important it is to avoid close pregnancies, quoting the gemara (Niddah 9b): A woman doesn't return to herself until 24 months [after birth].  He quoted studies showing a high rate of depression among women with close pregnancies.  A study in Utah showed that less than 15 months between pregnancies led to birth defects and learning disabilities. The European Journal Contraception published an article that found risks to mothers and babies when pregnancies were closer than 24 months.
He also quoted from a Jewish text about how husband are not only responsible for supporting their wives economically–they are also responsible for their health. This must be a consideration when planning children.
Levi gave several examples showing the connection between fertility and emotional health. A woman who had been infertile for 14 years once called him to make an appointment. They made the appointment for a few weeks later, and the woman asked Dr. Levi if she could tell him her story on the phone. A few days before the appointment the woman called to tell him that she was pregnant. —œYou listened to me,— she explained to Dr. Levi.
[Update: A reader thought that Dr. Levi was discounting physical causes of infertility–not at all! Much of the conference was about treatment for infertility. His talk was about emotional connections. He also gave examples of women who got their periods during exams, before their weddings or other stressful times.]
Dr. Levi recommended the books How Doctors Think and Trick or Treatment, a book about alternative medicine. He implied that many alternative treatments are successfully simply because the practitioner listens to the patient and relieves tension. He acknowledged that doctors today have much less time, but one can still give encouragement and be friendly even if they  have only a few minutes.
He recommended the non-hormonal IUD as an effective and safe birth control method. While the combination birth control pills contain lower doses of hormones than earlier ones, they still increase cancer risk significantly. New studies show that the IUD  decreases the rate of ectopic pregnancy ten-fold, and does not lead to infection. The Mirena (hormonal IUD) and hormone replacement therapy after menopause also increase cancer risk.
The diaphragm is also a safe and reliable method rarely used in Israel. Because doctors did not take the time to fit them properly, they frequently failed. Dr. Levi is teaching a nurse in the south how to fit them. Women need the largest size that is still comfortable, and my have to try it overnight before making a decision. It's 95% effective up to age 35, and 98% effective afterward.
I found links to articles by Dr. Levi (Hebrew) on birth control methods at Naomi Sela's blog.
You may also enjoy:
Fertility and Halacha for Couples
Breastfeeding, Babies and Hormonal Birth Control
Are Mature Religious Women Leaving the Fold?
Breastfeeding:An Optimal Way to Space Babies