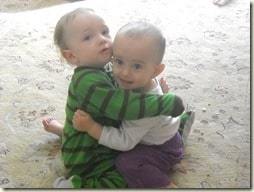 Rachel Gurevich left a comment in response to the proposed law requiring parental consent for feeding formula to newborns. When I wrote to her about publishing it as a new post, she asked to expand it. What follows is quite harrowing. I included a few short comments.
Rachel writes:
The proposed breastfeeding bill is extremely important and may be part of what is needed to give back rights to breastfeeding mothers. I say this as a mother who gave birth here in Israel, wanted to breastfeed, and was sabotaged over and over again at the hospital. A bill like this may have been able to protect me and my babies.

I am tired of reading all the objections to this bill, from people who are reading things into it that just aren't there. No one is taking away anyone's formula. No one is calling you a bad mother. You are just giving the hospital permission to give it to your baby. I mean, you sign SO many papers at the hospital, what is one more? I think legal action is the only way to get hospitals to respect breastfeeding in Israel.

Thank G-d, I had a lot of support from friends and family, two wonderful lactation consultants, and prior positive breastfeeding experience, all of which helped me undo the damage the hospital did to me and my babies. But had I not had that support, had I not had previous positive breastfeeding experience, had I not felt so terribly strongly that I wanted to exclusively breastfeed my twins, there is NO WAY in the world I would have succeeded. We're talking about weeks and weeks of pumping, herbs, medications, frequent baby weigh-ins, and very long trips in the car to see the lactation consultants. It was a nightmare from beginning to end.

Only two people know the entire story of what happened in the hospital, one of those people being my husband. No one else knows because I have never been able to talk about it without crying. My babies are 18 months old now, and while writing this, I am crying. That is how traumatizing the entire experience was.

Separation after Birth

I gave birth to my twins by c-section. My water broke the night before I had a scheduled section, for medically necessary reasons. Having given birth to my first children normally, and wanting to have a natural birth with the twins, I was disappointed but given my babies' issues (position problems and a rare umbilical cord problem), this was best for us.

I knew going into this that they would separate me from my babies after the birth, and I was not happy about it. My first two were born in the U.S. I was never separated from my first, and my second was only away for three hours (during which I fretted until he was returned). But even my second son was allowed to try to nurse before being taken away and spent his first two hours in the world in my arms.

I knew not having the chance to nurse the twins right away might be an issue, but I hoped the time away wouldn't be a big deal. I thought after the required separation passed, I would have the babies with me, assuming all was well, and I could nurse them then.

When the babies were born, I was told they looked great. Good weights for three weeks early and twins, and healthy looking babies. I was hopeful this would go okay after all.

After what seemed like a ridiculously long amount of time, at least four hours or more, I was brought to my room. I right away asked for the babies. The nurse told me they couldn't bring them to me just yet because the nurses were having difficulty getting her to take a bottle.

I was shocked.

I had no idea they would give my baby a bottle without asking me or telling me. I had no idea they would feed the baby before I got there. A newborn won't starve in four hours. [MiI: Babies are born with enough reserves for about 24 hours.] If they were so concerned, why didn't they bring me the babies earlier and let me nurse? I had told them I wanted to breastfeed exclusively. They didn't seem to care.

My son they said couldn't be brought to me because he wasn't seen by the doctor. I asked to see him for at least a little bit. They finally gave in and brought him to be for literally 5 minutes. I wanted to try nursing him, but the nurse stood there waiting impatiently, and took him away too quickly. I can't remember now if I got to try or not. I only know it was not a possibility to breastfeed him in that time frame.

Before their birth, I had done a lot of research on breastfeeding twins. I spoke to friends who had successfully breastfeed twins, both premies and c-section births and natural births. I read Mothering Multiples several times . I knew what problems could come up and how to avoid extra ones. I had INTENDED that if my babies needed formula, I would have used breastfeeding friendly methods that avoided nipples. But with the babies away from me, and no one being willing to listen to me, and stuck in bed for the moment, I had no control.

From my research, I knew I should pump as soon as possible, if I couldn't nurse the babies. I asked a nurse for a pump. She told me I couldn't have one. She said I had to go to a common area to use them, they only had four for the entire floor. But I couldn't get up. My blood pressure kept dropping every time I tried, so I had to stay in bed. I asked her if I could rent one from the hospital. She said there was no such service. I asked if I could buy something. She told me the pumps they sold in the shop downstairs were not strong enough for what I needed. Looking back, I probably should have tried it anyway. But who can think straight when you're full of hormones, separated from your babies, and in physical pain from surgery?

Finally, my husband convinced a nurse to bring me a pump, but —œonly for five minutes—, because she said, —œAnyway, you don't have milk now. I knew I didn't have that much milk yet but that was sort of beside the point! But whatever. I used the pump, and they took it away. I never was able to get it in my room again. I prayed that one pumping made a difference. [MiI: Mothers who need to express milk after birth can express by hand into a spoon or test tube. The small amount of colostrum sticks to pump tubing. But any pumping is better than none.]

I asked about my babies again. I was told my daughter finally took the bottle, but she vomited so forcibly afterward that she stopped breathing. They put her in the intermediate NICU, put tube down her throat to feed her. They said she could not be brought to me. I had not seen her even once, because my blood pressure had dropped when she was born during the c-section.

I haven't mentioned it yet, but I had been crying on and off since I was told my baby was given a bottle and they wouldn't bring them to me. But after being told about my daughter vomiting, I started to cry hysterically. I was angry. Our family has a history of allergies, and several members are sensitive to milk. She was probably allergic to the formula, which is what the doctors decided and switched her to a hypo-allergenic formula. She never threw up again. But that might never had been necessary if they had just let ME breastfeed her first. If I had breastfed her, she would not have to have a tube down her throat. If I had breastfed her, as I wanted, she may have never thrown up so forcibly that she stopped breathing. If I had been allowed to breastfeed her, she wouldn't have ended up in the NICU, where I couldn't see her when I wanted or have her with me.

I was upset.

I then learned my son was wheezing just slightly. As a precaution, they put him on a monitor in the regular nursery. I couldn't have him brought to me either.

By now, 12 hours had gone by since the birth. I had held only one of my babies for less than five minutes. I had thought being separated from them for just four hours would have been hard, and I was ready for that. I was not ready for all of this. I was emotionally a mess. I knew, also, in the back of my mind that I needed to keep pumping, but I didn't have the emotional or physical energy to demand the nurses to bring me the pump every few hours. So I only got to pump that one time that first day.

Whose Baby Are They Anyway?

My doctor came to check on me in the evening, now about 16 hours after their birth. He asked me if I was doing ok, and I just started crying like crazy. He asked me what was wrong, and I told him I was not able to see my babies yet or hold them or nurse them. He asked me why the nurses didn't wheel me down the hallway to see them, since I couldn't walk myself yet. I said I didn't know why. He got a nurse, a wheelchair, and made sure I was brought to see my babies.

I got to see my son first. There was one very nice nurse, who was there only once, who helped me get him latched on. But the other nurse there told me I wasn't allowed to let him nurse for more than five minutes. They said they didn't want him to get too tired to take the bottle. My babies were born three weeks early, but they were not that small and were not considered preterm and could have nursed longer. But they didn't let me. [MiI: Bottle-feeding is more stressful for pre-terms and uses more calories than breastfeeding. Small premies may have to have regulated amounts of breastmilk–not healthy 37-weekers.]

So I fed the baby his bottle. I know that formula feeding mothers will not understand, but for me, never having given a child a bottle, this was an emotional experience.  I didn't want this. I wanted to try a breastfeeding friendly method, like a tube on the finger or something. But at that point, I was afraid to make more trouble, and too tired to fight anymore. I knew the baby would be in that nursery, in their care, most of the time. There was no way they were going to do some crazy breastfeeding thing.

Next, I got to see my daughter, who was in a different nursery. She had the tube down her mouth, and she was sleeping. I asked if I could try nursing her, but they said there was no point. They didn't want me to wake her up. So I just looked at her, in that little plastic baby box they sleep in. I felt so helpless and so sad for her.

I spent five days in the hospital, and every day was a fight. I told them I wanted to feed the baby the bottles myself. I wanted to be able to nurse first and then give the bottle. They insisted on feeding them on a schedule of their making, one that didn't take into account that I had TWO babies, in two different nurseries. That meant I had to choose one or the other over and over again, which was extremely difficult to do. Most of the time, I chose my son, because they were more willing to let me nurse him.

I set alarms on my cell phone to get there in time, because they rarely came to me. If I was a few minutes late, or they started a few minutes early, the baby was already fed or in the process of being fed. This meant I couldn't breastfeed first.

One time, I wanted to feed the baby but the timing for the next feeding was during lunch, and lunch was only 20 minutes long. I came 15 minutes early, and asked the nurse if I could breastfeed him first, and then go to lunch and she could give the bottle. She told me no. She said she was not going to let me mess up her schedule, and she wanted the baby —œto eat properly.

Nighttime Feedings

I told the nurses to wake me up in the night to feed the babies. They usually didn't. I set my alarm after I realized they wouldn't come get me, but not because I was sleeping– I didn't sleep more than a couple hours every night the entire time — but because I didn't want to miss their scheduled feedings.

One night, I came to the nursery and said I was there to feed the baby. They were already feeding him. I went over to the nurse who was feeding my son, and I almost threw up. I have never seen such a thing in my life. She was holding my baby's cheeks together and his head back, and forcing the bottle over and over into his mouth, pressing the nipple onto the roof of his mouth so it was squirt out, essentially forcing him to take the milk. He was asleep!! But she insisted on him taking whatever amount of milk she decided he had to take. There was no reason for this.

When I saw this, I felt not only sadness for what was happening to my baby, but guilt that if I had just gotten there five minutes earlier, maybe I would be feeding him, and holding him to my chest, nursing him, and then bottle-feeding him GENTLY. Not like this. I went back to my room and cried (again).

Speaking of the night, I never slept. I was lucky if I got three hours. I had always roomed-in with my babies and always slept with my babies at home as well. It's well known that rooming-in allows on-demand breastfeeding, something important for success. I actually choose the hospital I choose in Israel because I was told they allowed rooming-in for "some"  people. I actually called ahead (or my doula did, I can't remember now) and was told that they allow rooming-in even for twins, even after a c-section, if you get "permission."

This, of course, did not happen for me. How could I sleep with my babies down the hall? I spent most of my nights crying that I was apart from them, crying about the bottle situation, crying that I couldn't see my daughter as much as I wanted, crying that I had to keep choosing one over the other, crying that I kept needing to fight with the nurses. They say that rooming-in isn't good for moms because moms need to rest. I wasn't getting rest with my babies so far away from me.

"Every Nurse Was Different"

Every nurse was different about breastfeeding. Some would yell at me if I tried to nurse longer than five minutes. Then, when a new nurse would be there, and I'd do the five-minute nursing, she would yell at me for not nursing long enough. Sometimes, my baby wouldn't drink the number of milliliters they wanted, and they tried to get me to force-feed him. I told the nurse that maybe it's because they got enough from me. "Don't be silly, you don't have any milk yet,  they told me. Do you want to starve your baby??"

(I heard them tell many women, with babies who had NO problems at all, this line. I can't tell you how many women were told they were bad mothers or trying to starve their babies for wanting to only breastfeed.)

I knew I would need help, in the hospital and after, with breastfeeding, after all the bottles they received and having pumped so little. (I was pumping, by the way, between feedings, though not often enough. I spent most of the time running back and forth between the babies, trying to feed them and avoid having another nurse force-feeding one of my babies.) I asked a nurse for a lactation consultant. This was available in America after both of my boys, and I assumed all maternity wards had connections like this.

They said the hospital didn't have a lactation consultant. So I asked if they had a name, number, someone. No one. They were no help at all. I had friends who had connections, but between trying to keep with my babies as much as possible, and the tendency to break into tears every time I talked about it, I couldn't find time or a way to call my friends.

Finally, near the end, they allowed my son off the monitors. I should mention that his wheezing stopped after the first night, but for —œprecaution—, they kept him on the monitor for three days. I am almost 100% sure this would never happen in a breastfeeding-friendly hospital in America that encourages rooming-in and breastfeeding. There was no good reason to keep us separated all day like that for so many days.

Once I could bring him to my room, I could try nursing more and longer. I tried to nurse him every two hours, not the four-hour schedule they had insisted on before. I had formula, and sometimes I gave it to him, and sometimes I dumped it down the drain. I kept careful track of the diapers. I would never, ever starve my baby, but the nurses had totally shot my confidence. Sometimes, I worried if I was "nursing him for too long", and I'd switch to the bottle, and then try nursing again. I never had such low confidence with breastfeeding with my older kids. But with these babies, I stopped trusting myself.

I saw a lot of moms come and go over those five days. I remember one woman who I saw breastfeeding at the beginning. Four days later, she was pumping one night, while I sat with my baby in the public area for that. She told me she was engorged with milk because her baby wouldn't nurse anymore. "Materna is just too easy for him. He doesn't want to breastfeed anymore. Too difficult for him." I said I was sorry. She clearly wanted to breastfeed, but was sabotaged by the hospital's formula pushing.

On my baby's bassinette, I noticed on the last couple days, they placed a little sticker that indicated my baby was "breastfeeding only." Ha! Right in the bassinette, was the bottle I was being pushed to give the baby. The sticker, by the way, had a cartoon picture which is from a formula company. Even the breastfeeding stickers advertised formula.

One night, we came to take the baby to my room to nurse him. The nursery nurse asked me, "Do you need a bottle, too?"" I was confused. I said,  "Am I allowed to not give him a bottle?" She smiled and said, "He's your baby." So my husband, who was with me and had much better Hebrew, explained the past few nights. She told us a mixed up sort of story that sure, we were in charge at home, but here, they are in charge, and we don't have to give the bottle. But if he loses too much weight, then he will have to stay in the hospital, and we don't want that. What do you think we choose to do? Of course. We took the bottle.

Sending the Baby to the Wrong Mother

In one disturbing incident, I went to go feed my son in the nursery, but a nice-nursery-nurse had already sent him on his way to my room. (At this point, they were still making him stay there all day. This nurse in particular let me "break the rules" and take him with me for an hour at a time.) I didn't know and we passed in the hallway. I asked her for him, and she said she had already sent him to my room with the floor nurse. I went to my room. The baby wasn't there. I went back to the nursery, and then to the floor nurse. She got this shocked look on her face and ran to my room. She had accidently given my baby to my roommate, an Arab woman who didn't speak any Hebrew or English. And my baby actually nursed from her for awhile. [MiI: When a similar incident happened in the U.S. the hospital ended up in court.]

Meeting an Angel

Another night, I had told the nurses to come get me to nurse the baby and had been setting my alarm. They came only an hour after the last feeding and asked me to come. So I went, and found my baby happily sleeping. I asked why they sent for me. The nurse started screaming at me, and I had no idea what she was saying, my Hebrew wasn't good enough. I asked her to please speak slower, and she spoke to me in English. She yelled at me that my baby keeps crying and maybe he is hungry. I said to her that he is asleep right now. And the time to feed him didn't come yet on their schedule. She yelled at me, "Babies don;t eat on a schedule! Don't you know you should feed a baby when they are hungry?"

I had no energy to argue. I took the baby into the area you can be in at night, put him on my chest, and was trying not to cry too hard. There, I met an angel. There was a woman feeding her baby with a tube, just like I had wanted to do, just like I had read about in the breastfeeding books. The woman saw how upset I was and she started up a conversation. We chatted about nothing for awhile, and then we started talking about breastfeeding. She had given birth in Israel before, and she knew how to play the nurses-games. She actually had a condition where she doesn't make enough milk right away, but after time and with pumping, she can. But she was careful to avoid nipples. She told me the nurses often accused her of starving her baby, but she ignored them. She told me where I could get a pump, what I could do when I left the hospital, and other things.

She was one of only two or three women I saw who got up to feed their babies in the night, and thank G-d she was there. She gave me so much hope. She made me feel like I could undo what happened in the hospital. She let me know that the nurses didn't only talk to me that way, they talked to everyone that way. She made me feel less like it was my fault what happened, and told me about the formula pushing and how as far as the nurses see things, no one is capable of exclusively breastfeeding their babies from day one. I don't remember her name, only that she was from Telz Stone. I will never forget her.

Going Home

Finally, we went home. I emailed my LLL friends, who supported me and helped me connect with a good lactation consultant team. I got a pump. I worked so, so hard, and it was a good 6 weeks before both babies were breastfeeding almost exclusively. By 8 weeks old, we were able to put the bottles away. We had all kinds of problems with nipple confusion, getting them to open big enough to latch and not being lazy suckers, and my milk supply was hurt from the lack of pumping and nursing those crucial first days.

But eventually we succeeded, and they are still nursing, which I hope to do until at least two years, if not longer.

It took me six years to conceive these babies, with the help of fertility treatments. I'm sorry to say it, but if a miracle should happen and I get pregnant on my own, I am TERRIFIED of having another baby in this country. Terrified. I keep telling my husband that I will give birth under a tree next time. If I had to be in a hospital here, I'd probably start crying before we even entered the place.

In fact, my 18 month old boy had to stay in the hospital for a few days a week ago, for an illness. My husband stayed with him, because I couldn't handle it. I stayed with his twin at home. Why? Because the hospital scares me to death. I visited and breastfed him there, of course, but I was nervous the entire time, and I even broke into tears when a nurse yells at me for something ridiculous. All because of my experience with my babies after birth, being separated from them, not being allowed to nurse them when I wanted , having formula pushed, being told I'm a bad mother and I want to starve my babies. A nightmare.

I do not believe that formula-feeding moms are bad mothers. I don't think formula is poison. I'm just a regular mother who loves to breastfeed and loves to be with her babies. My tears in the hospital about my babies getting formula were not because I see formula as evil. It was because I knew it might ruin our ability to successfully breastfeed, something extremely important to me.

I hope this new legislation passes, and no mother has to go through what I went through or what I saw many other women go through in an Israeli hospital again.

Rachel Gurevich, Guide to Fertility at infertility.about.com
[MiI again:] C-section moms aren't the only ones to be separated from their babies. I get many calls from moms who did not "receive" their healthy babies until six or even twelve hours after birth. If you examine the research, as laid out in this document from the World Health Organization, skin-to-skin contact during the first hour after birth, along with full rooming-in, play a significant role in the establishment of breastfeeding and other maternal behaviors. A mom who has been separated from her baby is many times more likely to have problems.
If moms and babies were together there would be no problems with consent as the mom would know what her baby was eating at all times. Hospitals should do everything they can to ensure that babies and mothers stay together. Period.
You may also enjoy:
Guest Post: Breastfeeding and Working
Guest Post: Miracles of Motherhood