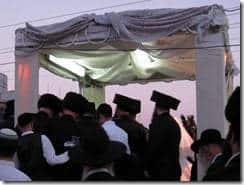 Haredi educators are noticing that the age of marriage is rising. According to an article in the Hebrew edition of Mishpacha, only 10% of students in a particular seminary got engaged last year instead of the normal 50%.
According to the shadchanim (matchmakers) quoted, only 5-10% of girls' parents can afford to buy an apartment for the young couple in a low-cost haredi project. But the parents of the "good" bachurim (eligible men), are still hopeful, so they wait, while the yeshiva dormitories fill up.
These kinds of articles always seem to pit parents of sons against parents of daughters. At least 90% of haredi parents, presumably, have children of both genders. Yet parents demand large sums for sons, even though the system bites back when it comes time to marry off a daughter.  Maybe they think that the price of apartments will drop after the wedding.
In the meantime, apartment prices are rising rapidly. According to the article, even those parents who diligently saved are finding they don't have nearly enough. Families are larger and sources that helped previous generations, like Holocaust reparations from Germany and inheritances, have dried up.
A shadchan lists the "going rate" in various haredi communities:
"Yerushalmim." (Lithuanians in Jerusalem) $130,000 total, including varying amounts from both sides.
"Sephardim." If the boy learns in a Lithuanian yeshiva, he can get $50,000 and sometimes much more. In sephardi yeshivot it's common not to expect financial help. Sometimes the parents only commit to the cost of the wedding and furniture.
The Hasidim have it simpler, thanks to takanot. The rebbes of the various chassidic groups have set financial limits on all aspects of the wedding.

Chabad opposes any gift of an apartment. Couples work as shlichim in Chabad Houses around the world, or live in cheap secular cities within Israel.
Gur, Belz and Satmar have strict guidelines, with each side paying no more than $20,000.
In some Jerusalem Hasidic communities, the parents provide $130,000 like in the Lithuanian community. Other Hasidic groups like Boyan, Slonim and Vizhnitz used to give $20,000 from each side, but now each Rebbe rules in a slightly different way. It also depends on whether the groom is planning to work, or stay in yeshiva.

Hasidic parents in the US give $20,000 each and pay rent for 8 years.
Some Lakewood yeshiva students request an apartment but not getting one doesn't stop the shidduch. Shidduchim in the US end with each side giving $1000, and "even then the children say thank you."
Americans in Israel, even if they have lived here for thirty years, are not interested in buying apartments for their children. They give a minimal sum to start out with, and expect the children to manage on their own.
There is no discussion of the Lithuanian community outside of Jerusalem.
One shadchan got a call from the parents of a 25-year-old woman, looking for a man with a health issue or a "small defect." She's a fine girl, but the parents can't pay so they have lowered their sights. One of the shadchanim claimed parents who had a hard time getting the sum they demanded for their son are reducing the rates for the next son in line.
A rabbi in Modiin Ilit said that he doesn't know of any family that married off a daughter without getting charitable funds.  And everyone agrees that it's unreasonable to leave yeshiva to spend months in the US begging for funds to marry off a daughter.
Many thanks to Rafi of Life in Israel, who scanned the original article for me. Bluke at The Jewish Worker first posted about it.
You may also enjoy:
Genetic Testing in the Religious Zionist Community