Wondering how you are going to decorate your sukkah*? Your worries are over! Please welcome Mara Strom of Kosher on a Budget for today's guest post on Sukkah crafts. And be sure to check out her site.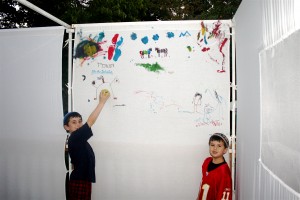 I love Sukkot. Really, truly love it! I love watching my husband and sons build our sukkah, and hosting friends and family in our humble little home-away-from-home. But every year, the decorating of our sukkah stumps me.
I spent an hour today cutting and stapling hundreds of strips of construction paper for our sukkah's paper chain. Such an easy craft to involve the kids in, right? Unfortunately, it ended up being Mommy's craft, since my sons were too distracted to help and my daughter is too little to be trusted with a stapler!
Today's failed attempt at a simple paper chain again reminded me that when it comes to decorating, I need a little more inspiration and a lot more instruction to turn my crafty vision for our sukkah into a reality.
If you, too, need some last-minute sukkah-decorating inspiration, I've collected links from my favorite Jewish bloggers and their decorating genius. Their projects are feasible even for the paper chain-challenged among us!
Finally, I wanted to share with you an idea from my own sukkah. After spending 11.5 months telling my children not to draw on the walls, I let them do just that. Using fabric paint, markers, glue, glitter – whatever moves them at the time – my kiddos get to create their very own masterpieces on our sukkah walls. From abstract blobs to equestrian stencils to baseball illustrations, these sukkah pictures are a wonderful way to appreciate my children's growth as people — and artists — throughout the years.
I'm sure Hannah's readers have lots more crafty inspiration up their sleeves, so tell me: How do you decorate your sukkah? What are your favorite Sukkot arts & crafts projects?
Mara Strom is a freelance writer, who blogs about living a rich but frugal Jewish life at her blog, Kosher on a Budget. She and her husband have two sons, born in Israel, and one daughter, born in Kansas.
*A sukkah is a temporary dwelling, roofed with vegetation, built for the week-long holiday of Sukkot (Tabernacles).
You may also enjoy:
Rosh Hashanah Cooking Tips and Recipes
Inexpensive Family Day Trips in Israel
Insects Keep Falling on My Head (On Sukkot, That Is)