Welcome to the July 2010 Carnival of Nursing in Public This post was written for inclusion in the Carnival of Nursing in PublicNursingFreedom.org. All week, July 5-9, we will be featuring articles and posts about nursing in public ("NIP"). See the bottom of this post for more information. ***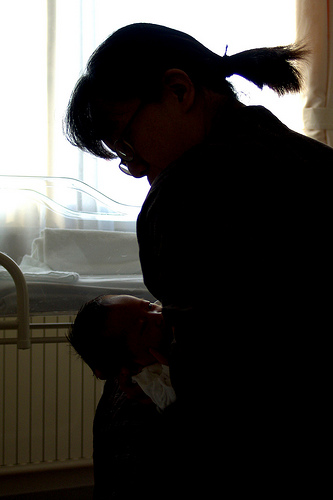 Nursing in public is controversial in today's Jewish world. A guest post I wrote on a liberal Orthodox Jewish blog, advocating acceptance for woman nursing in the women's section of the  synagogue, drew hundreds of mostly negative comments.  But there is no evidence that Jewish texts and tradition prohibit breastfeeding in public. And rabbis never viewed breastfeeding as too "unholy" for the synagogue.
A Jewish discussion of nursing in public usually centers on two possibly conflicting values. Judaism recognizes the importance of breastfeeding in nurturing children, with the mother as the primary spiritual influence in the early years. Yet Jewish law requires women to dress modestly, and that includes keeping breasts covered.
My cousin is writing a doctoral thesis on the history of Jewish women's dress. She explained that Jews usually adopted clothing styles of the surrounding culture, making changes when necessary. For example, Jewish women living in societies where uncovered breasts were the norm covered theirs. In Judaism, breasts have a dual role—they feed and nurture children, but they are also erotic.
Two biblical stories shed light on a Jewish approach to breastfeeding. Baby Moses, hidden so he wouldn't be killed by Pharaoh's evil decree, was placed in a basket on the Nile. His sister stood by to make sure he would be safe. When Pharaoh's daughter rescued Moses, she sent for a wet nurse from the Hebrew slaves. According to the Midrash, an early compilation of rabbinic interpretations of Exodus, Moses refused to nurse from an Egyptian wet nurse. The leader of the Jewish people was nursed only by his own mother. In Judaism nursing is more than food—it plays a key role in transmitting religion, values and culture. Hannah also nursed her son, Samuel, for several years before sending him to study under Eil and fulfill his life's mission as a prophet (I Samuel, Ch. 2). Rabbinic texts define the nursing period from between two to four or five years old.
Does the fact that breasts are seen as erotic mean that breastfeeding is erotic as well, and should be private even when the breasts are not visible? In Jewish texts, a discussion of women's modesty centers around whether a man can pray in the presence of a woman with various body parts exposed. According to the Ben Ish Hai, a rabbi from the late 18th century in Baghdad, while a woman is breastfeeding her exposed breasts are not considered erotic. The function of the breasts, feeding a baby, trumps considerations of modesty. But the fact remains that even though Orthodox women are careful to cover up when nursing, they are often made to feel uncomfortable.
I saw a woman in a black robe down to her ankles calmly nursing her baby on a bench in a Jerusalem zoo. I've also met women comfortable showing cleavage or a bare midriff, but not with nursing in public. Whether one nurses in public has little to do with religion or modesty. Modern Jewish expressions of discomfort with public breastfeeding come from the un-Jewish attitude of the surrounding bottle-feeding culture.
All of the reasons for protecting the rights of women to nurse their babies wherever they are—convenience, social involvement, better breastfeeding rates– remain valid for traditional Jews, especially mothers of large families. It saddens me that society's negative attitudes toward breastfeeding in public could influence young Jewish mothers to avoid breastfeeding.
**Welcome to the Carnival of Nursing in Public
Please join us all week, July 5-9, as we celebrate and support breastfeeding mothers. And visit NursingFreedom.org any time to connect with other breastfeeding supporters, learn more about your legal right to nurse in public, and read (and contribute!) articles about breastfeeding and N.I.P.
Do you support breastfeeding in public? Grab this badge for your blog or website to show your support and encourage others to educate themselves about the benefits of breastfeeding and the rights of breastfeeding mothers and children.
This post is just one of many being featured as part of the Carnival of Nursing in Public. Please visit our other writers each day of the Carnival. Click on the links below to see each day's posts – new articles will be posted on the following days:
July 5 – Making Breastfeeding the Norm: Creating a Culture of Breastfeeding in a Hyper-Sexualized World
July 6 – Supporting Breastfeeding Mothers: the New, the Experienced, and the Mothers of More Than One Nursing Child
July 7 – Creating a Supportive Network: Your Stories and Celebrations of N.I.P.
July 8 – Breastfeeding: International and Religious Perspectives
July 9 – Your Legal Right to Nurse in Public, and How to Respond to Anyone Who Questions It