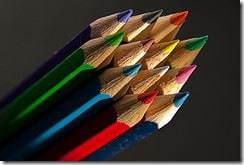 We're less than a month away from the start of school. I have no idea whether my first-grader's class will remain intact. I lost the book lists, which mysteriously disappeared after I put them in a folder marked "school." A neighbor is holding on to a batch of books for my 11th grader, and I passed off another batch from my 9th grader. I told my kids that they'll have to clean up their rooms before I buy more books and supplies. Wish me luck with that one.
Here are my tips for buying school supplies. Please share yours in the comments.
Uniforms: All schools now require children to wear a shirt with the school logo. Our elementary school asks for specific colors, and you buy t-shirts at a local store that carries the iron-on logo.The teens' schools are more particular about style, and asked parents to buy or order them at one particular store. Quantity: I suggest one white and three to four short-sleeved colored t-shirts, depending on how often you do laundry. Buy one each of the light-weight long-sleeved t-shirts, because cool days hit suddenly. I don't ever buy sweatshirts with a logo, since on very cold days (may we have many rainy ones) the classrooms are overheated. The kids can wear a warm jacket, or an undershirt underneath (not recommended). In a pinch, kids wear warm undershirts under their short-sleeved t-shirts.
Covers. You can get pre-made covers for standard-sized books, workbooks and notebooks.
Plastic folders. Keep a supply of klasserim shekufim and nylonim. The klasserim have a colored back and clear front. You can put looseleaf paper in them, but usually you use nylonim, clear plastic envelopes for inserting worksheets. These are also used for handing in school reports.They can all be reused, and it pays to empty out the older pages after a few months even if the teacher objects.
Pencils. Watch out for cheap pencils that can't be sharpened. I saw a recommendation for Parnat-Zafir, 5 stars.
Zehavi. If you have four kids or more, you can join the organization Zehavi and get a new book-bag for your first grader. At least that's how it works in my branch. It is probably too late for this year.  Zehavi also offers discounts for local stores and attractions.
Looking forward to hearing more tips, including stores and brands that you like.
Related Posts
Choosing an Elementary School in Israel