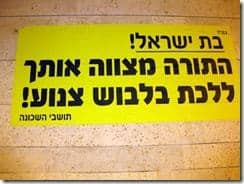 One of the things I love about Petach Tikva is its diversity. We have rich, poor, Russians, Ethiopians, Anglos, religious and secular. Even a few Christians and Arabs. So I don't quite know what to think about this sign posted on Herzl Street near the center of town, on an abandoned building just opposite the Lomzhe yeshiva.
Translated, the sign reads: Daughter of Israel! The Torah commands you to dress in modest clothing. [Signed:] Residents of the neighborhood.
It's true that a large number of young haredi families have moved into town, taking advantage of relatively inexpensive rentals in older buildings. But the only people I saw walking around last night were two yeshiva students taking something out of the Lomzhe yeshiva, and three older Russian ladies in sleeveless shifts.
As far as I know this is the first sign of its type in Petach Tikva. It's an odd choice of location, since despite the yeshiva the area around Herzl Street is not a haredi neighborhood. But I guess to the people who posted it, that doesn't really matter.
A while back a reader emailed that I should stop writing about charedi women and the way they dress. Since no one is telling me how to dress, she wrote, I should leave well enough alone. Well, I regularly walk down this block, which is about a ten-minute walk from my house.
I called the municipality to lodge a complaint. I doubt the building, which used to be an insurance agency, belongs to the yeshiva. The city has enforced laws about posting signs in the past.
Here's a larger view:
Thanks to Aaron H. for spotting the sign and letting me know.
Update: My son went by and saw two identical signs. I had missed one hung on an adjacent building.
Related:
Haredi Women Advised to Sit Separately from Immodestly Dressed Women