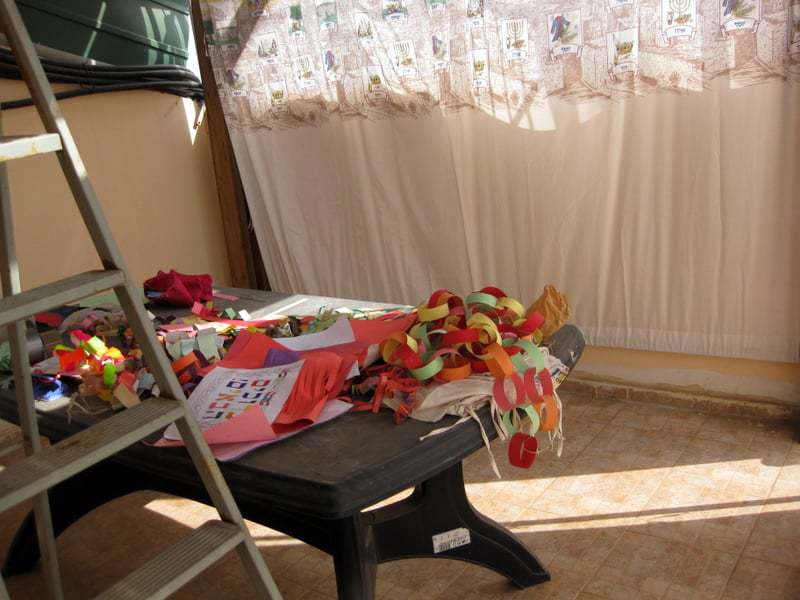 This is what's happening chez Mom in Israel:
Household laundry is finished.
Floor is washed, even though we won't be eating inside.
Soldier son #1 is being picked at train station with two dufflebags of laundry. He has to go to Zichron for the day on Tuesday, followed by an obligatory barbecue, and comes back home until next Sunday.
Soldier son #2 called yesterday to say he's not coming home this weekend. My husband asked whether he would be on the base, and he wouldn't say. A few weeks ago,when he finished his advance training, he told us that we shouldn't ask any questions about what he's doing because he can't tell us. "But what if there's something you can tell us? Can't we ask anyway?" "I prefer that you don't ask." Anyway, I gather he is not on the base.

The Sukkah is somewhat decorated, after several crises.

I hate to admit it, but it appears that no Sukkah decorations are up.
Some food is cooked, most is not. You're allowed to cook on Yom Tov, and we don't have company. Only one day, nyah nyah nyah (that was for Leora).
Two family members just informed me that I said to put ALL the frozen chicken from the shopping trip yesterday into the refrigerator for defrosting. So my menu is currently being revised.
My throat has been sore and my glands swollen for several days. Because there's no point having a blog if you can't kvetch once in a while.
Have a wonderful holiday, and if you're out of Israel don't forget that Eruv Tavshilin.
You can show off your Sukkah decorations over at Mara's place.
You may also enjoy:
State of the House Passover 2010
This is the Way We Wash the Floor