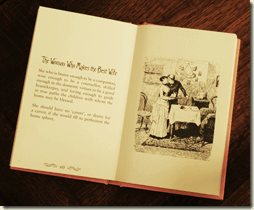 "Submission" is a buzz word that I have heard around the net—not to God, but to one's husband. The idea is that to maintain a happy marriage, the wife should put her husband first and allow him to make all of the decisions. Most women who write about being submissive appear to be fundamentalist Christians, but I've seen it on Orthodox Jewish sites as well.
One example is Anna T. of Domestic Felicity, a Jewish home-making blogger and self-described anti-feminist. She writes: "A godly woman submits to her husband joyfully and willingly, because this is what God calls her to. She isn't bullied into it and she doesn't do it because she only has half a brain."
But is there a Jewish source for this? The Christian sites frequently refer to Genesis, as does Anna T.:
In Genesis 3, Eve is told: "Your desire will be for your husband, and he will rule over you". Notice that the word used here is "rule" —" not "oppress", "beat into submission", or "boss around".  Does it mean her husband gets the better deal? No. Ruling means the husband is responsible for the wife, her well-being and their family. The one who rules is supposed to be wise, responsible, to take care of those who submit to him. I'll say more —" with his kind and loving guidance, he is a servant of those who are under his rule. He is a protector.
Even when modified in this way, the terms "submission" and "rule" raise all kinds of red flags. Several months ago a reader who came across Anna T.'s site asked me to address the issue of submission within Jewish marriage. I put it on the back burner until last week, when I found this site called Married at 12. When you first go there, Google warns you about the content.
The blogger, who calls herself Dina, writes:
I was raised in a small but abusive pseudo-"Jewish" cult. I am a Jew by birth but the religion I was taught was far from authentic Judaism. It was torture, abuse & subjugation disguised as religion. I was married at age 12 and by the age of 26 I already had 7 children. Fortunately my husband and I ran away from the cult where we were raised and that's when our lives truly began! This blog is about my discovering freedom for the first time, re-learning what Judaism is REALLY about, figuring out what I do & don't believe, and struggling to raise my children in a different life than I was raised.
Dina writes a lot about submission to one's husband. As I understand, she still considers it a Jewish value but not to the degree she was taught as a child. She even mentions sisters deferring to brothers, which I haven't heard about. Dina has lots of questions and welcomes respectful feedback.
Noah Roth kindly provided me with a collection of sources and commentary on the topic of Jewish marriage and gave me permission to share.
Noah writes:
The Babylonian Talmud, Kiddushin 29B discusses situations of conflict between two entities which one is commanded to honor. For example, one must honor parents, but may not listen if their parent commands them to violate the Torah because "הוא והם חייב בכבודי" both the son and the parents must honor God, and therefore the son honors his parents by observing the Torah  even against their explicit wishes, since they too must observe the Torah.
Similarly, (Cited in Maimonides) a women must honor her husband's parents ahead of her husband, since her husband is required to honor his parents, and she in effect honors him by fulfilling that commandment on his behalf. Another case is if a married mother and father simultaneously ask a child to do something, the son should respond to the father's request first as both the son and mother must honor the husband. If his parents are divorced, he should honor his mother first, as neither parent is obligated in the honor of the other, and absent a requirement that your mother honor her husband, her honor comes before your father's.
These cases rest on the assumption that a woman owes her husband honor, though honor simply means temporal preference in this case rather than subservience. By way of example, God tells Abraham, "כל אשר תאמר שרה שמע בקולה." (Gen. 21:12)"Whatever Sarah says, hearken unto her voice." Women are clearly equal partners, entitled to disagree with their husbands, and husbands would be wise to listen.
A woman is referred to as עזר ×›× ×'×"ו. (Genesis) Kinegdo means literally opposed to him. She is not merely meant to accompany and abide by him, but to actively partner and at times disagree with him, adding value through her different perspective. What you are describing is not a Jewish value.
But what about men ruling women (the translation is debatable), as quoted by Anna T.? This passage is referring to the state of the world after Adam and Chava (Eve) sinned by eating from the Tree of Knowledge. It's no more a requirement for men to rule over women than it is for women to have painful childbirth or for men to sweat in the field growing grain so they can eat bread, both of which are mentioned in the next few verses. The passage is descriptive, not prescriptive. There is no commandment that men should rule over women, nor is this held up as ideal that women should strive toward.
My husband brought up a couple of other relevant sources.
First, men do have control over women in important way, with their ability to nullify their wives' vows (Numbers 30:13). Making vows used to be an important part of Jewish life. Nowadays we only think about it in the context of the Kol Nidrei prayer on Yom Kippur and a symbolic hatarat nedarim, or "release of vows" ceremony that many do before Rosh Hahashanah. Also, a person who ceases observing a long-held custom needs to go in front of a rabbinic court to be released from the vow.*
The ketubah, or marriage contract, specifies the husband's obligations to his wife. It does mention honor, but that refers to a specific requirement to provide her with adequate food and decent clothing. The Talmud discusses a wife's obligation to her husband, including cooking and baking, nursing his children, spinning, and making his bed. If she brings servants into the marriage, they may fulfill these obligations. Both have sexual obligations to the other. If the husband divorces the wife without grounds, he must grant her the sum specified in the ketubah.
So while there are ways in which marriage is unequal in the eyes of Jewish law, I have not found a source saying that a woman must submit to her husband or that only he makes final decisions. Within the context of modern Jewish marriage and Jewish law, couples are free to decide for themselves how they divide their responsibilities, childrearing, housework, decision-making,  bread-winning, and observance of customs and stringencies.
If a couple decides that the husband will make decisions for the family, both partners agree about when to consult, and the wife is genuinely comfortable with this arrangement, that's okay with me. My problem is when this is represented as the Jewish ideal of marriage. When mentioning ideas such as the wife must always defer to her husband, put his needs above hers and never disagree with him publicly, I get even more uncomfortable.
Even if both spouses want to internalize some of the admittedly patriarchal attitudes in Judaism, the emphasis is misplaced. Jewish women have enough to do without wasting energy worrying about overstepping vague boundaries within marriage including submission, deferral,  contradiction or gender roles.