Abandoned objects rarely get stolen in Israel. People lay them out where others can see the, or leave a note. Once I even saw a lost key hung on a nail on a tree.  But if an abandoned item is large, like the unfortunate six-year-old's backpack left at the bus stop on the first day of school, the police throw the object into the nearest pit and explode it.
At least that's what they used to do. Over the years we have developed more sophisticated ways to handle suspicious objects.
Last Thursday, I noticed  a line of traffic all the way down the street. I looked out the front and saw a police van: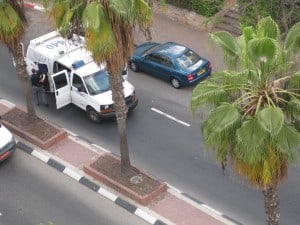 A small robot stood nearby, and after a few minutes it began rolling toward the intersection. Just before the video below begins, the police warned people to step back from their windows. I convinced my kids that we were far and high enough away, but the noise of the explosion still caught me off guard. Long-time readers will recognize the view from my laundry window.*

So the neighborhood became safe once again. At least for a few days.
Yesterday morning I heard a commotion and found the street blocked off again. I had a much better view this time. This robot is prettier too.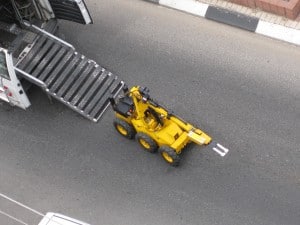 I wondered whether the robot's target was this truck, in which case I did need to stay away from the window: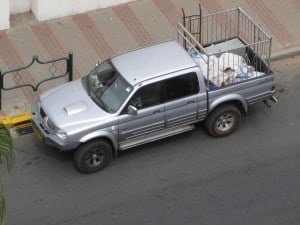 I called down to the policeman, who shook his finger at me, "No."
The policemen prepared the robot for deployment:
Then the robot moved down the street out of sight:
After answering the phone I climbed up on my kitchen counter and spotted it near the steps of a neighboring building. I caught the robot just as it dumped the contents of the bag onto the sidewalk.
It turned out to contain videos and some other other junk.
After inspecting the material, the policeman deactivated the robot:
So ended another adventure in this country's strange combination of careless neighbors, terror threats, and futuristic technology.
*For the record, the new traffic circle is convenient but overgrown with weeds. Elections are over so I guess there is no incentive to decorate it.