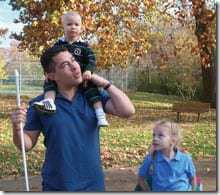 Recently, a baby from Missouri was was taken away from her parents and only returned after 57 days.  A hospital nurse had decided that the parents, who were blind, could not care for their baby appropriately.
[My father is legally blind. While that affected me in many ways, my mother was in charge of daily care.]
Blind parents have special challenges when caring for their children. The website Parenting without Sight reassures both parents and skeptical professionals, giving practical tips from experienced parents.
Infancy. The best way to care for a baby, whether you are sighted or not, is to keep baby close and learn his cues.
Diaper rash. A blind parent won't notice redness, an early sign of diaper rash, although bumps can be felt. A blind mother can be vigilant about applying ointment to prevent diaper rash.
Transport. A sling is essential, to keep one hand free for a white cane or guide dog.
Toddler safety. Just as in infancy, keeping the child close is key. A blind mother can train children to hold hands outside, and place bells on clothing or shoes to alert her when they are getting into something.
Illness. Talking thermometers and raised markings on medicine cups are useful tools for blind parents. A sighted helper can fill up a few syringes, to be used as needed.
Learning. Blocks with raised letters, or magnets can be used to teach letters. There are children's books including both Braille and printed text, for blind parents to read aloud. If blind parents have a system for keeping track of colors of clothes and other items, they can teach their children too.
School. All parents of kindergarteners and first graders can get overwhelmed by the amount of printed material that comes home. Children of blind parents may need a helper until they can read  homework to their parents when necessary.
I enjoyed this passage from Parenting without Sight:
Gary Wunder of Columbia, Missouri, is the father of a grown daughter. A young blind man looking forward to fatherhood in a few months asked him for his advice. Gary's thoughtful response contains wisdom for all blind parents and for the people who seek to understand and learn from us:

My advice is first to enjoy your children at every stage. They'll pass from one stage to the next, and, as much as you'll love watching them grow, you'll still miss the child of a month ago. My daughter Missy is twenty-five and working in a highly responsible job after getting her college degree. I love this Missy, and at the same time I miss the Missy who sat with me in the rocking chair, the one who rode in front of me in a Snugli as I walked her to sleep, the child who listened to me as if I were an oracle when I was saying something important to her. I miss the kid who, learning to think on her own, realized I wasn't all-wise and didn't know nearly as much as she once thought I did; and I miss the child who later, as the pendulum swung, again came to realize I knew a bit more than she had thought I knew and flattered me by once again coming for advice. I miss the day we went to buy her a car, and she thought I was the smartest bargainer in the world, and then the drive in which she asked me, "How am I doing, Dad?" and I said, "I can't really supervise you on this one," and she said, "Yeah, I know, but it feels like you can."
Image source: Nebraska Federation of the Blind