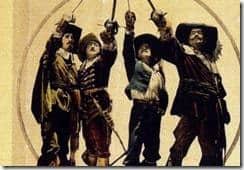 This week, Gilui Daat published another letter to an uncooperative and unappreciative daughter-in-law. My own daughter wondered whether both letters were written by the same person, but the details don't match.
Here's the previous letter: With a Mother-in-Law Like This, Who Needs Enemies?
My translation from Hebrew, and some notes at the end:
To our very dear daughter-in-law,

You two married a year ago, to much joy and happiness. We tried as hard as we could to welcome you as a daughter—as we did the rest of our daughters—yet you distance yourself from us, and from the rest of the family.

We are a united and loving family—one for all and all for one.1 Your husband, our son, ben hazekunim [son of old age] has also distanced himself from the family.2 There are not only elderly parents, but brothers, sisters, brothers-in-law, sisters-in-law and nieces/nephews that grew up with him, went with him to the snif (youth group) played soccer and basketball with him, and were part of him.3

We understand that you are a young couple, building your home and your future. You are doing many things: Studying, working, volunteering, and you also have many friends that you invest [time] in.4

We love you very much. We are a part of you and you are a part of us. 5

But remember that there is only one family.6

We so much want you and don't know how to behave. If, God forbid, we did something inappropriate, if you were offended, come and tell us. Don't cut off your husband from us. We raised him for you with blood, sweat, and tears.7 An amazing guy [bachur le-tiferet]. And if he chose you, then you are the one and only for him, and also for us.8

You are at the start of your journey. You will also have children, God willing, who will fill your home with noise and happiness.9 So please, think of us, of Abba and Ima and the whole family who want to be united, happy, and loving.

And again we remind you, daughter-in-law: You are like10 a beloved and dear daughter to us.11
Notes:
We like meaningless cliches.
We still blame you.
"Were" being the operative word.
Can you say, "misplaced priorities?"/li>
We were taught to sandwich criticism between loving, affirmative statements.
And that one is ours.
You owe us, big time.
At least, that's what we keep telling ourselves.
So far there is no sign of grandchildren, but we haven't given up hope.
But not quite.
If we say this enough, maybe you will start doing what we want.
Gilui Daat is a weekly alon distributed in synagogues, containing a weekly open letter contributed by readers.
You may also enjoy:
With a Mother-in-Law Like This, Who Needs Enemies?
Adventures in International Travel: A Long Life
"Niddah" Art: Maybe This Month